RECIPE FOR A BETTER MONDAY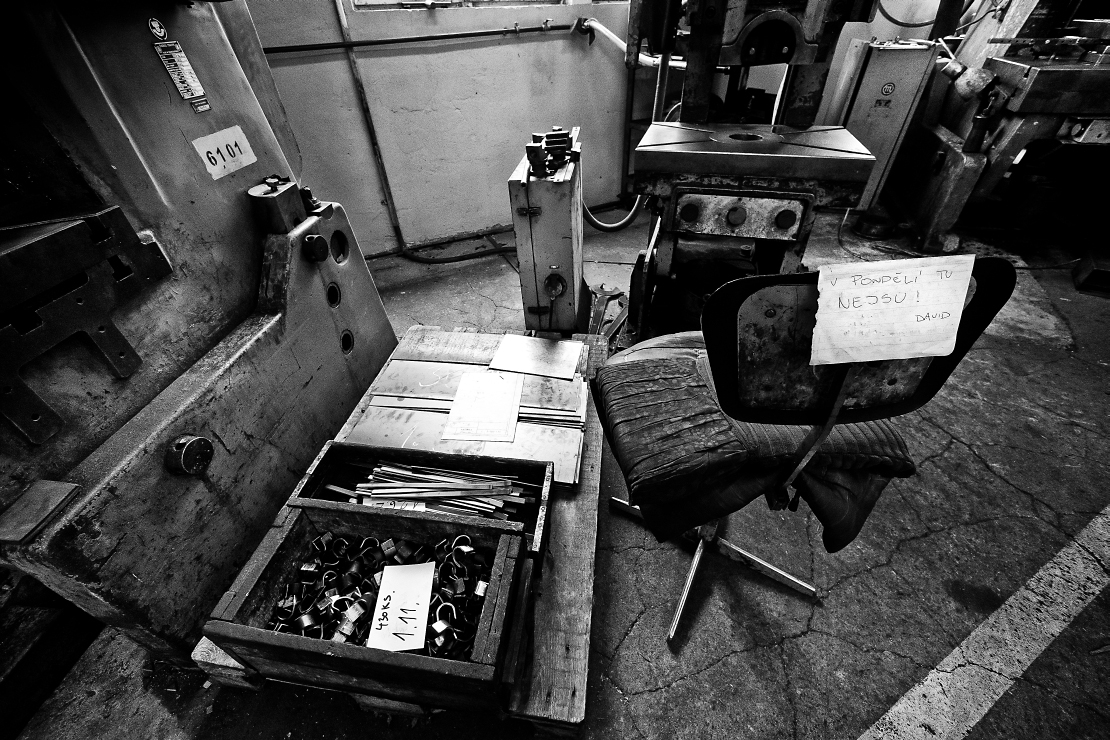 Since the world began, Monday has been a chore. But does it always need to be like this? With Mrak and David we have a theory that it does not. Then we have another one. It says that if a paper appears on your desk on Monday saying "I'LL NOT BE HERE ON MONDAY", the world will not collapse.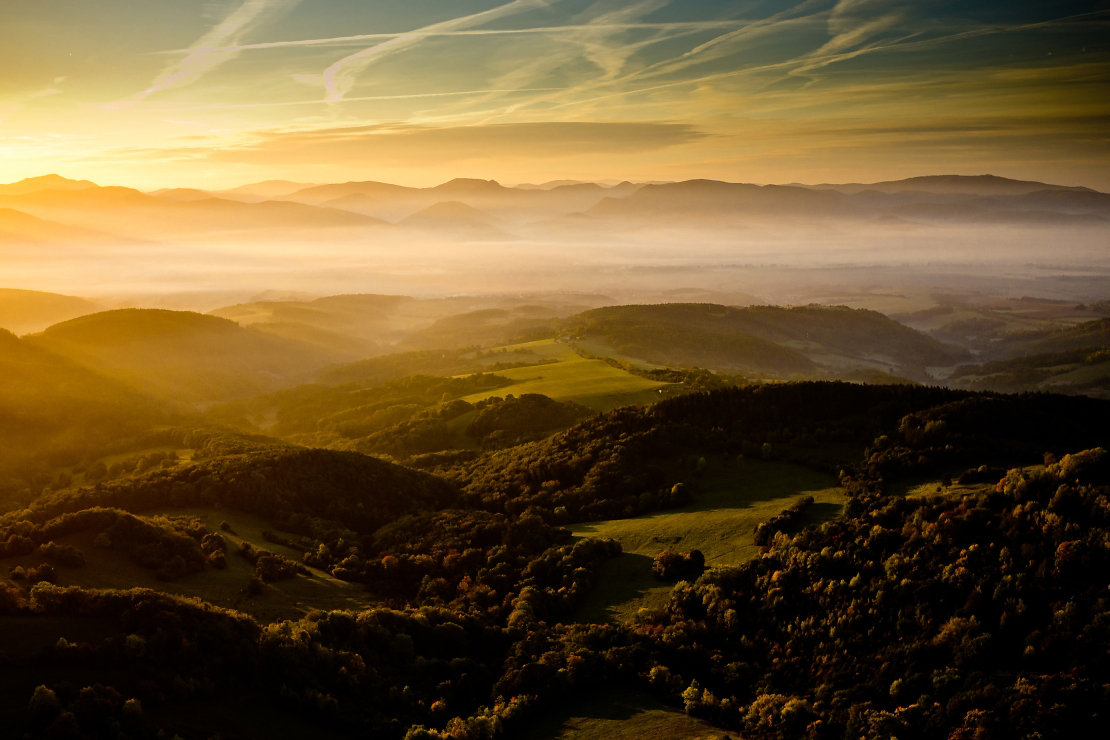 And since scientific research is second nature to us, we set out to verify our daring opinions at a reputable bike laboratory on the Czech-Slovak border. Here we make a great circle around Vršatecká Bradla and see what will result from it. The alarm clock is set to half past three in the morning, it is a dark and beautifully painted, but rather chilly autumn out the window. Just a few dozen kilometres on asphalt routes remain and we can see Slovak hills making a roll-call formation in front of us.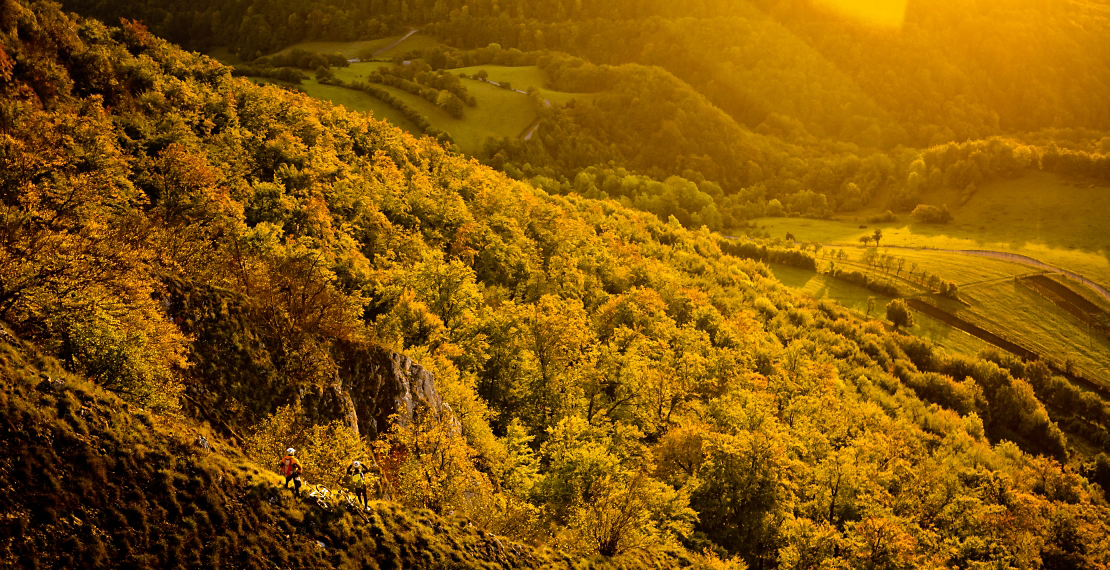 Shortly after seven a.m., we stand with our kit-bags below Vršatec and the sun, tired by the autumn, tries to climb over our heads. It takes just a moment and its rays start to play a spectacular theatre in the coloured treetops.

Breakfast time!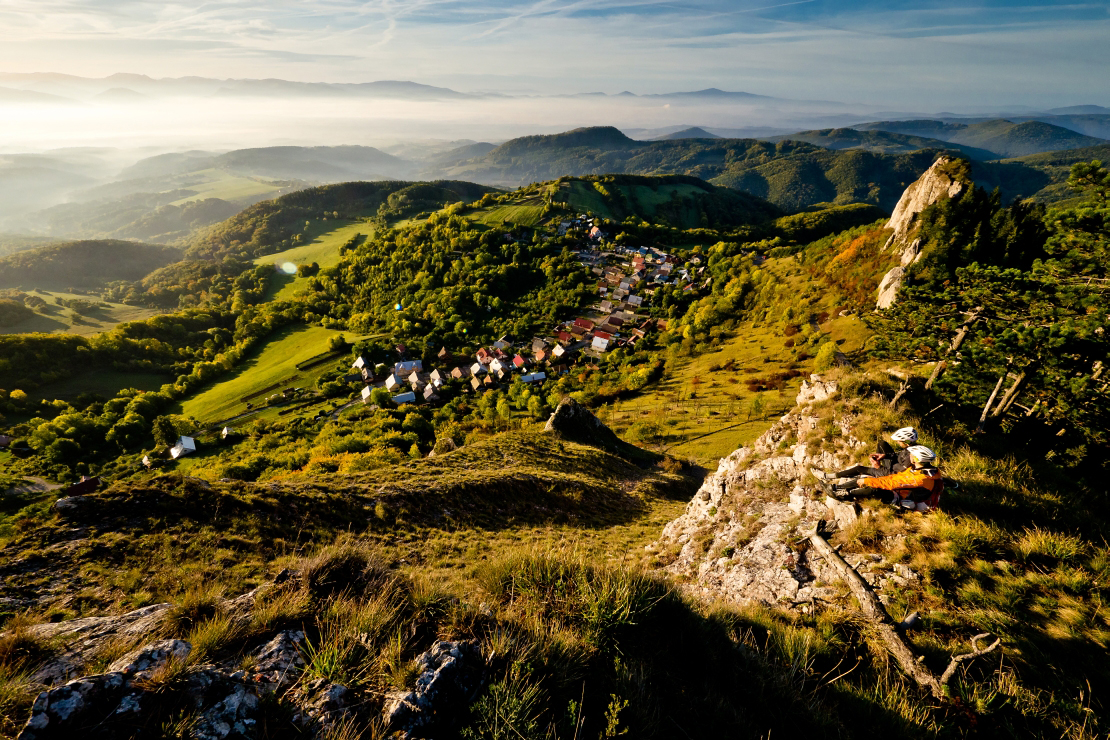 Cracks in the old-fashioned theories about annoying Monday start to appear. This Monday does not start badly at all!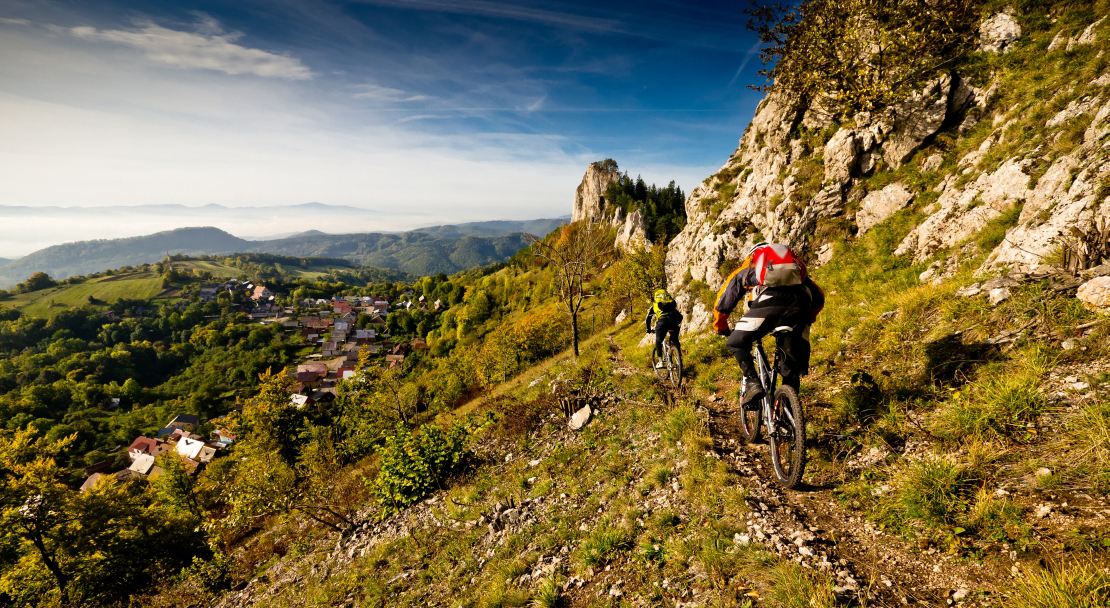 But now we stop admiring, it's time to set off. There is still a whole route and a considerable number of hills of the White-Carpathian borderland before us.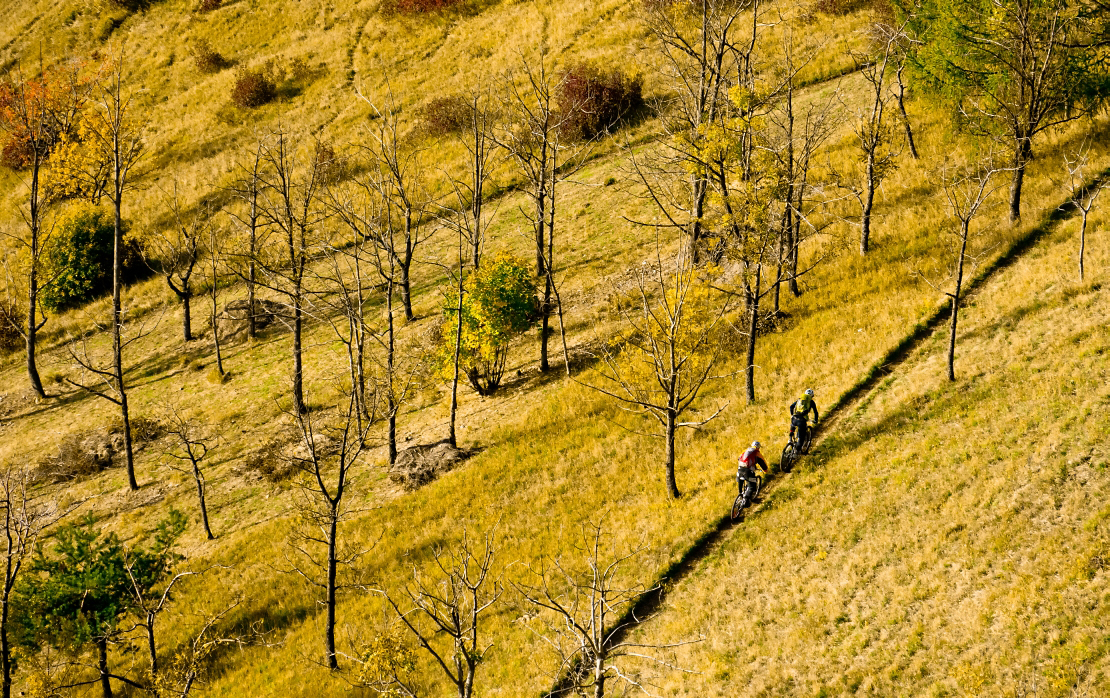 So here we go. From the parking lot below the parallel bars of limestone we climb sharply, following the yellow symbols to a saddle below Chmelová. The hoarfrost carpet below our feet crunches and discreetly implies that the summer season is definitely over.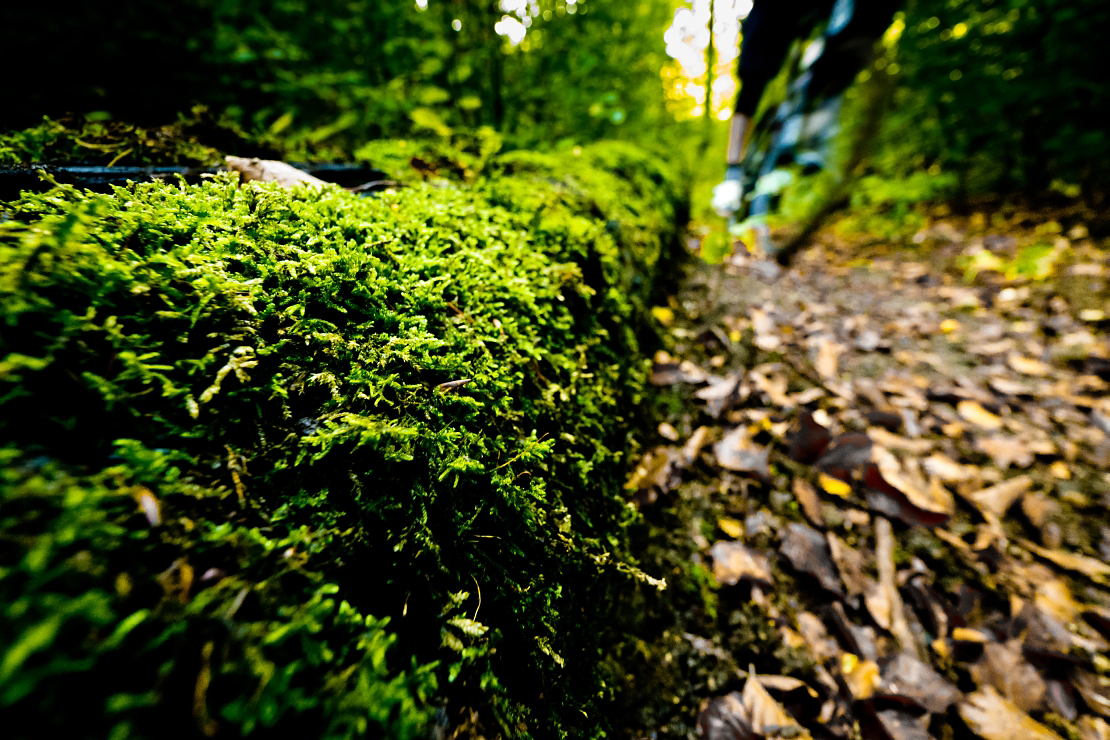 However, from the saddle we start a great downhill ride, which definitely warms up the blood, chilled in our veins by the freezing morning.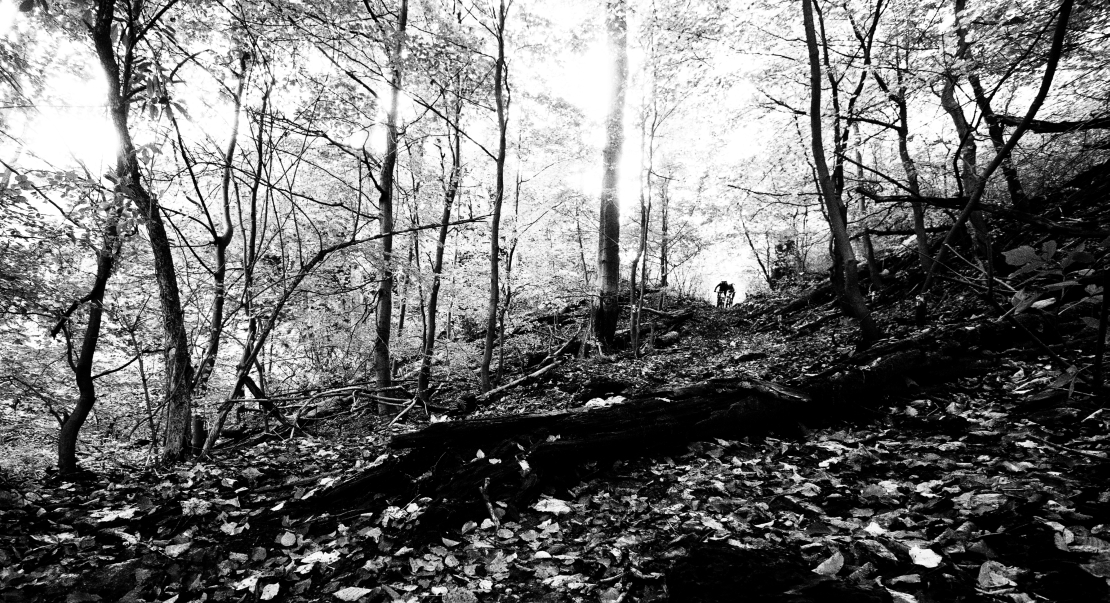 It starts with a great downhill ride between rocks and roots.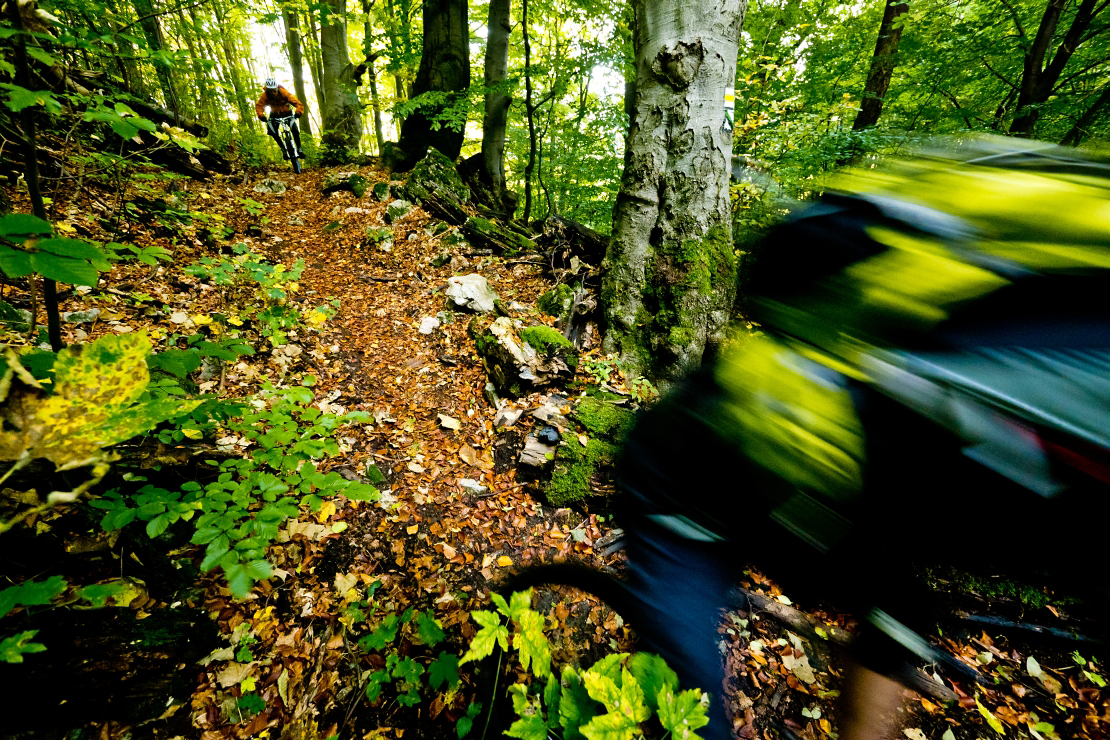 After a while the trail gets the best manners and we experience a great flow starting to run beneath our wheels on a limestone bedrock. A compression of curves and horizons squeezes the endorphins out of us (not to be confused with adrenaline, please!).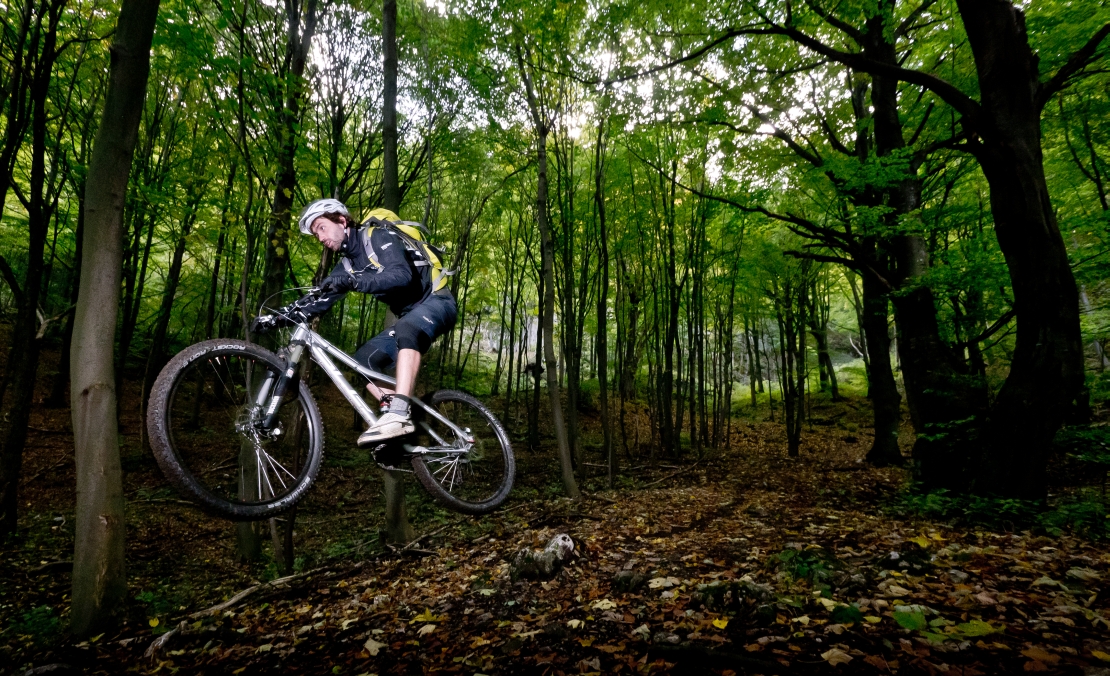 When the cards were dealt this way, there is no time for prejudice. Who said that a twenty-niner can't be a super trail bike?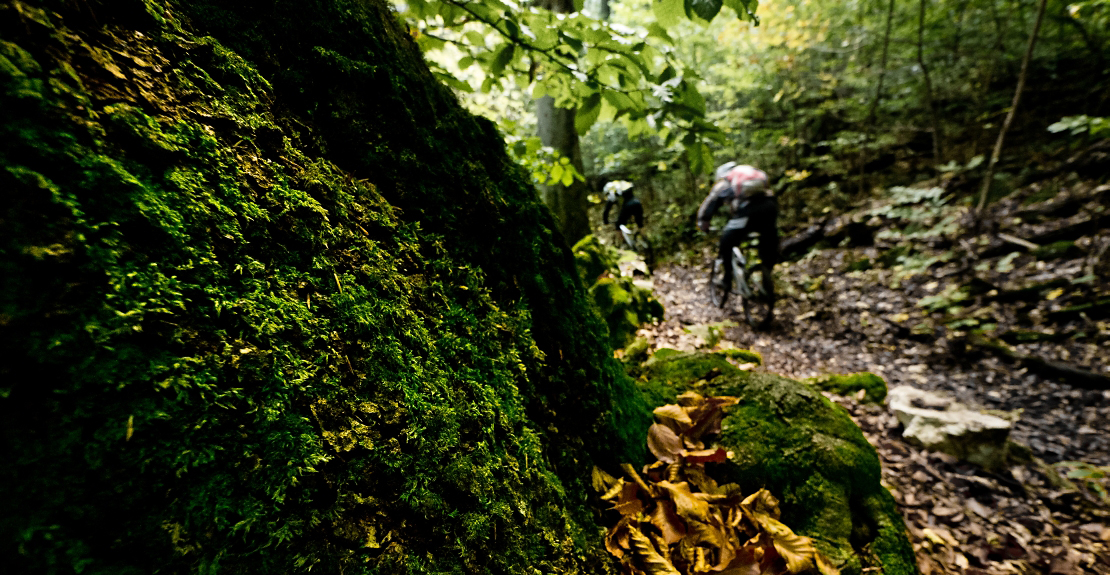 I can remember when we rode this trail for the first time. It is not too long, some three kilometres. At the end, however, we fell off our bikes and breathlessly enjoyed the wonderful feeling we were filled with. Not because of exhaustion, or adrenaline, but because we'd caught the "wave".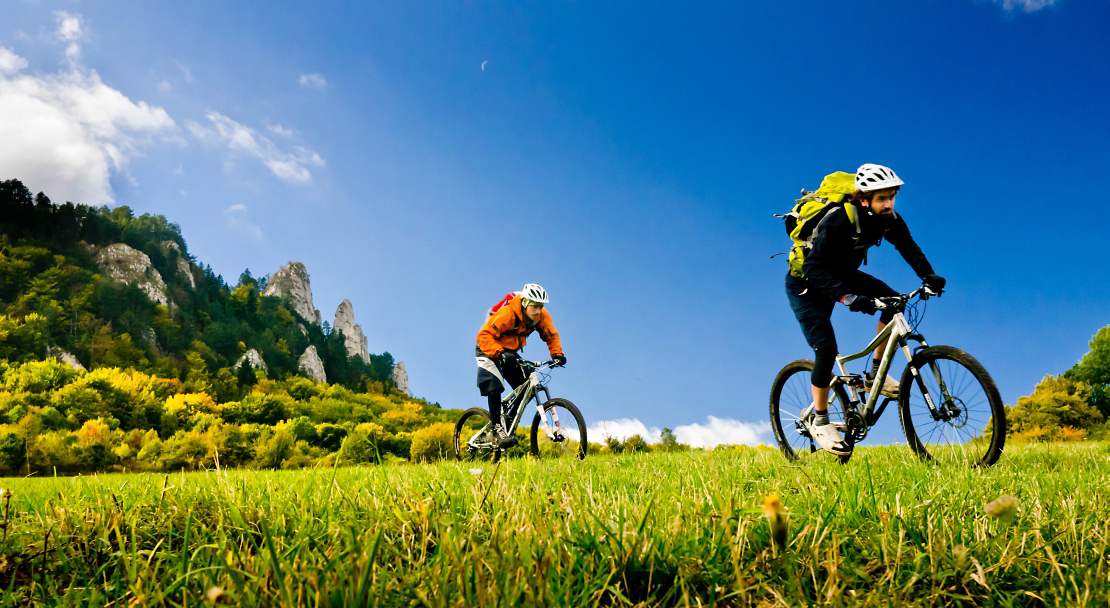 The trail spits us out onto colourful meadows. The last limestone greetings of Vršatec disappear behind us and there opens before us a valley with the village of Červený Kameň, huddling below other massive parallel bars.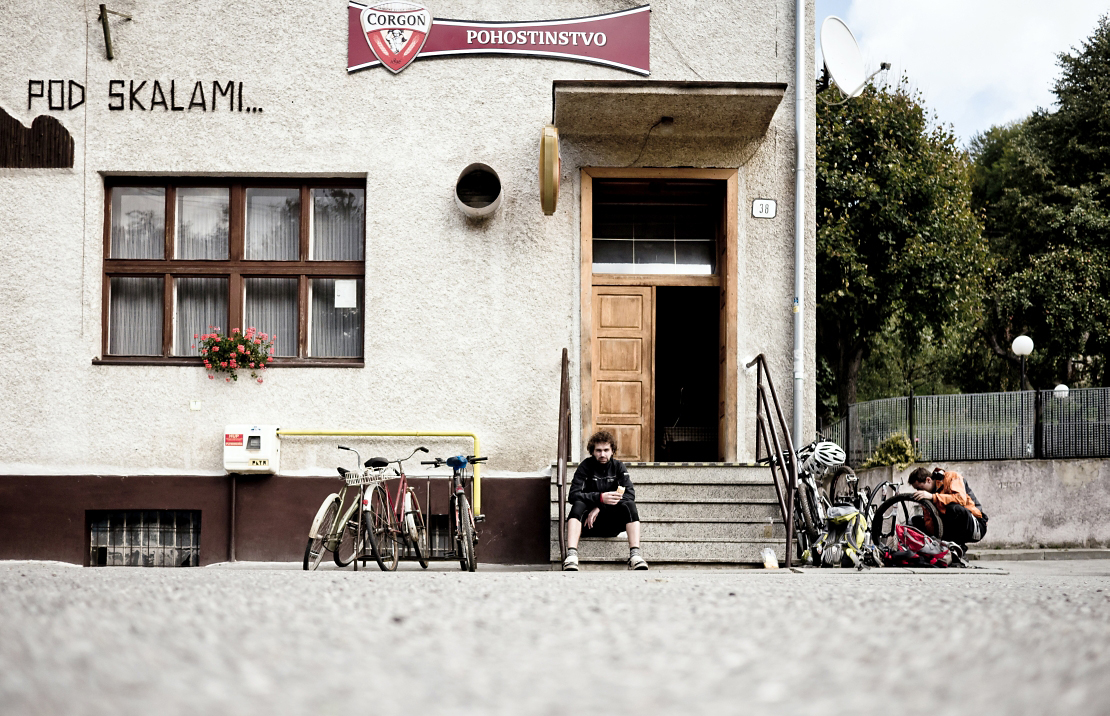 We make a stop on the village square of Červený Kameň. The local pub is perfectly located for a snack. Minor concerns about the opening hours are not founded. It is a working day, barely noon, but slot machines are merrily flashing, the Borovička is flowing and not many tables are free. How unfortunate that you can't get anything to eat. The snack consists of just lemonade and crisps. Better than nothing.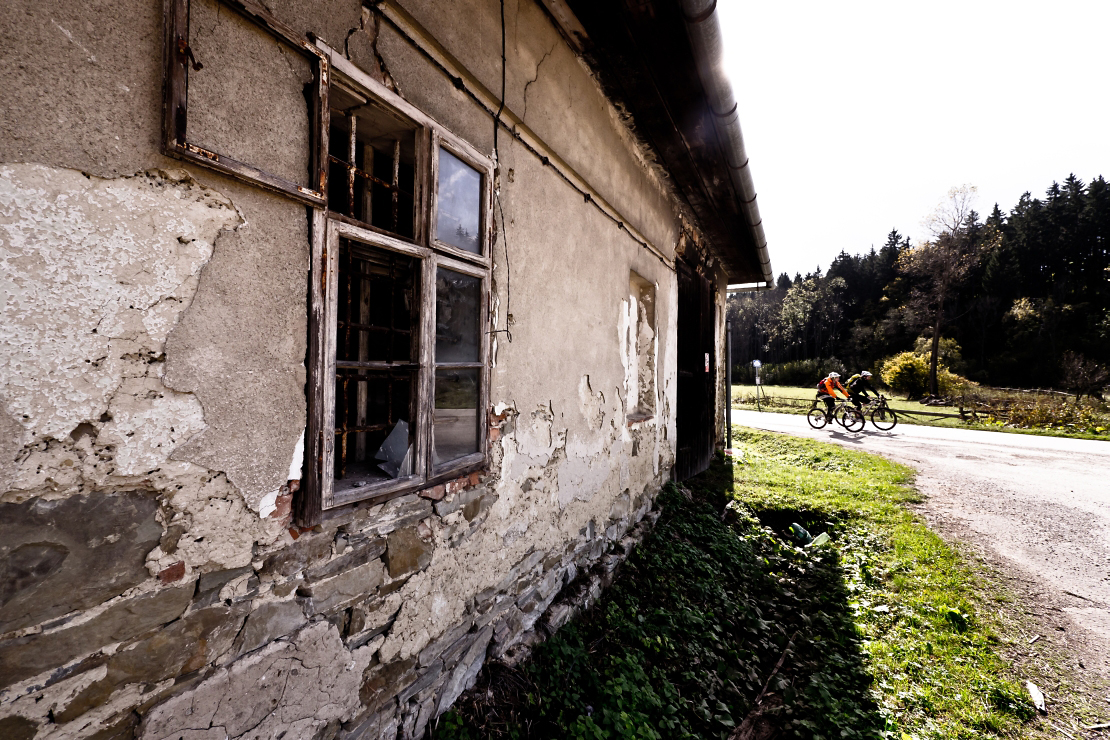 After a while our journey continues to the border crossing near Nedašova Lhota. The images here are the same as anywhere in the borderland.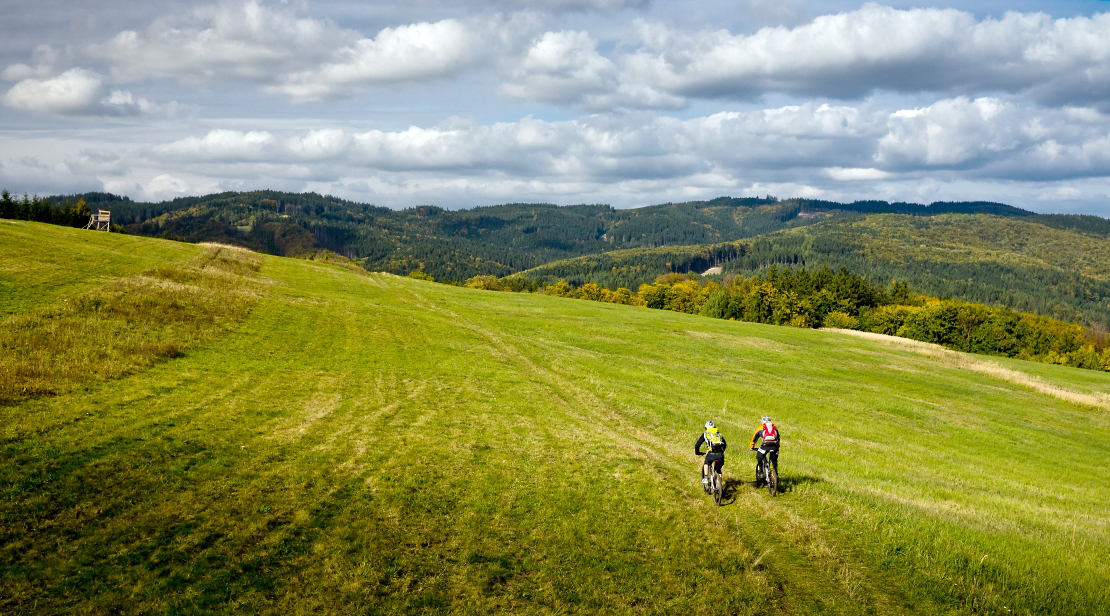 We get off the asphalt part of the otherwise great off-road trail by the lime-trees above Nedašova Lhota. In perfect meadows we turn onto a rugged ridge leading us back to Vršatec.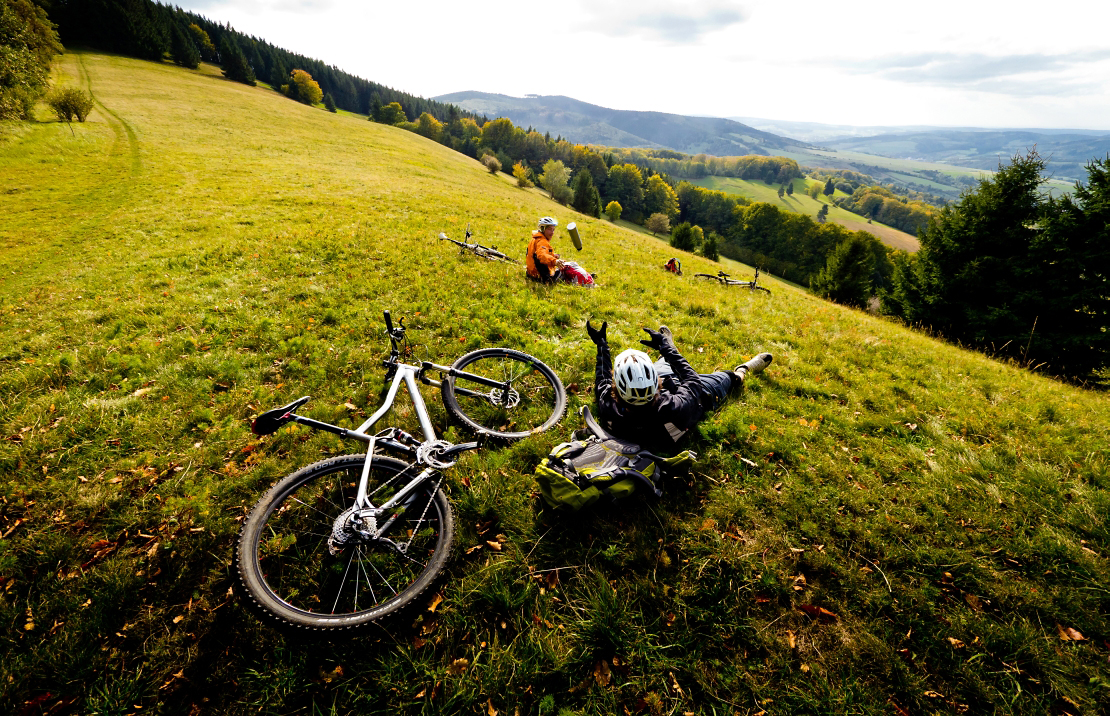 Several steep climbs, quick downhill rides and a luxurious lie-down in the meadows above the Vláry valley, warmed probably for the last time. We just need to take out the thermos, pour some tea and everything is perfect. What are the guys at work doing right now?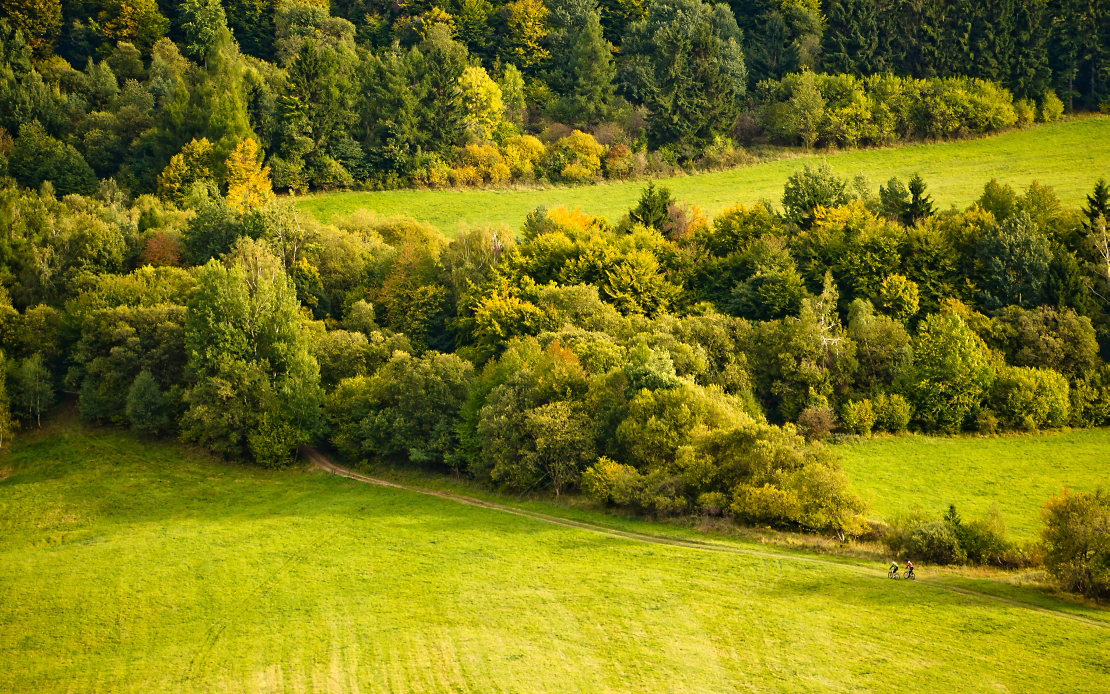 And we are in the meadows below the Biely vrch, slowly finishing today's climb. That's what we really like.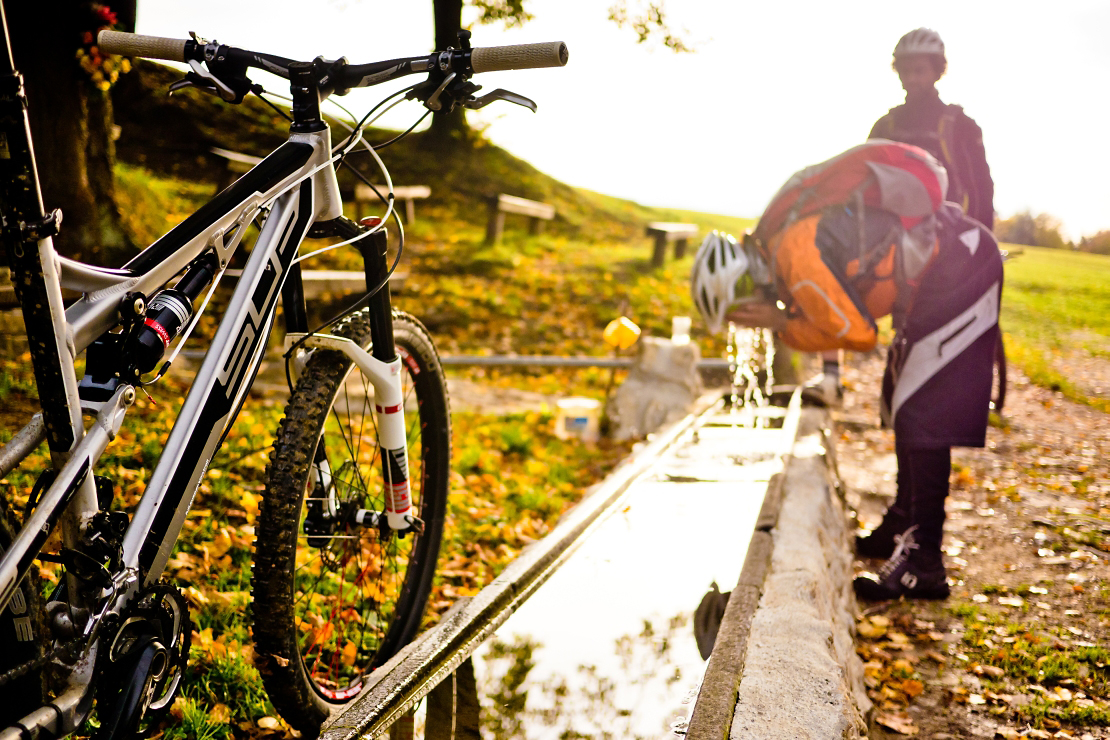 It's great here, especially in the autumn. All that remains is to refresh ourselves at the guaranteed miraculous spring at the chapel in Březová and then we slowly turn downhill.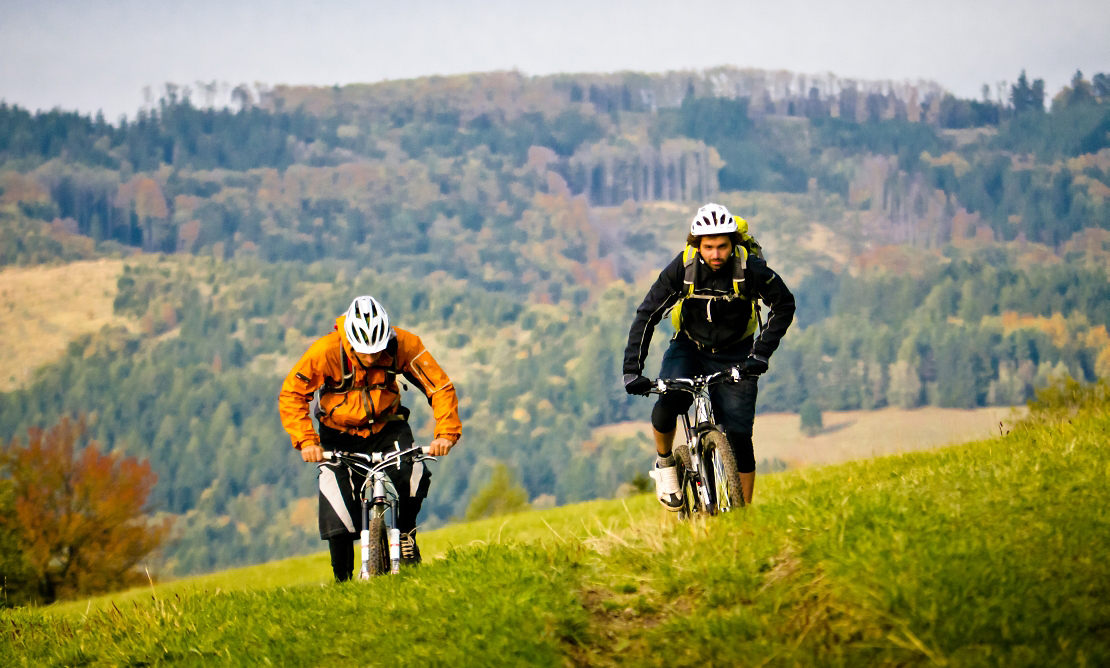 Just a little stretching in the meadows, and then enjoying the great downhill-ride following the red symbols to Sidonia and our Monday experiment is over.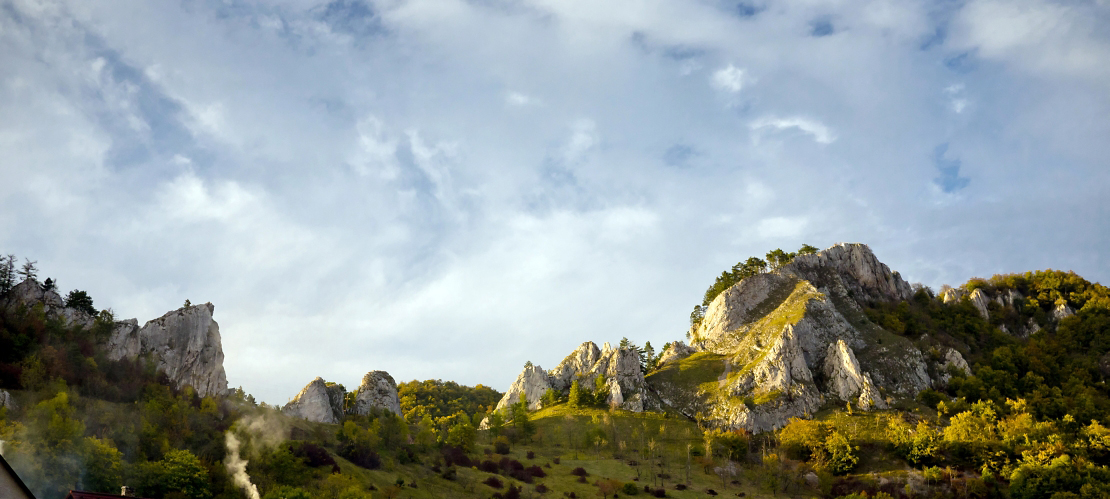 The last rays of the day reach Vršatec...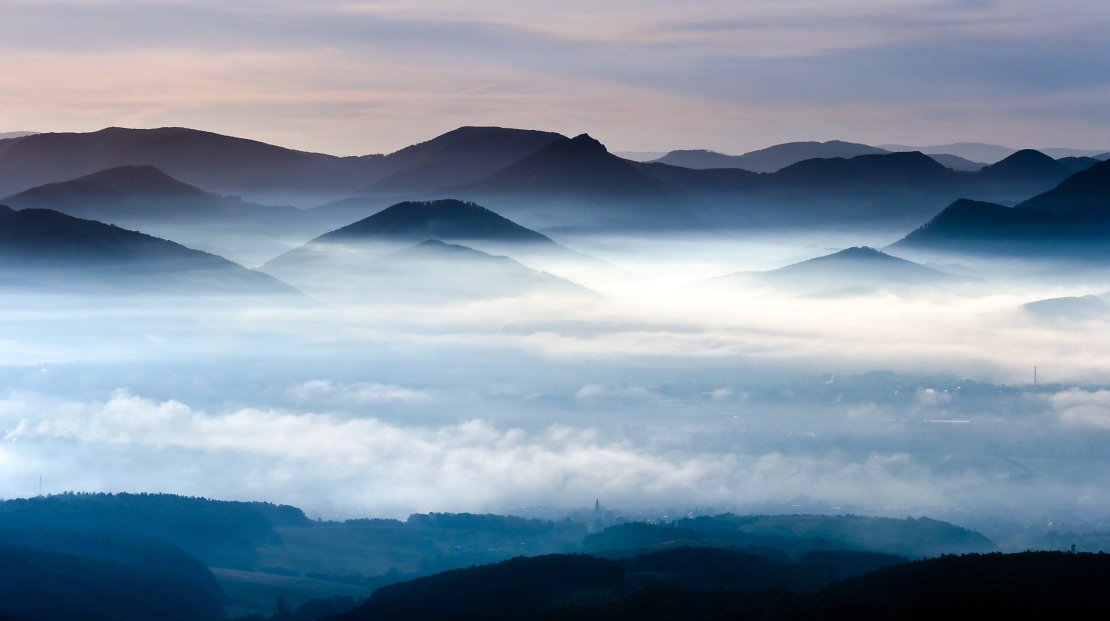 ... we leave the Váh valley and the silhouette of the Strážovské Hills behind and go home with our heads packed with experiences. So next time when you grumble about Monday, try to remember our little experiment. Mondays don't have to be annoying, the world will not collapse with the paper "I'LL NOT BE HERE ON MONDAY" and you have to take a break some day. So what about setting out tomorrow!