HANS REY AT SINGLTREK POD SMRKEM

At the end of July 2011 an inconspicuous camper crossed the German Czech border. If you did not notice several dozen colourful stickers covering the back of this RV you would hardly guess that it was driven by a mountain biking legend and headed into the Czech Republic. I however knew about Hans "No Way" Rey's visit to Singltrek pod Smrkem trail centre pretty well. The white camper pulls in at the meeting point on time and I am becoming Hans' personal photographer for next two days.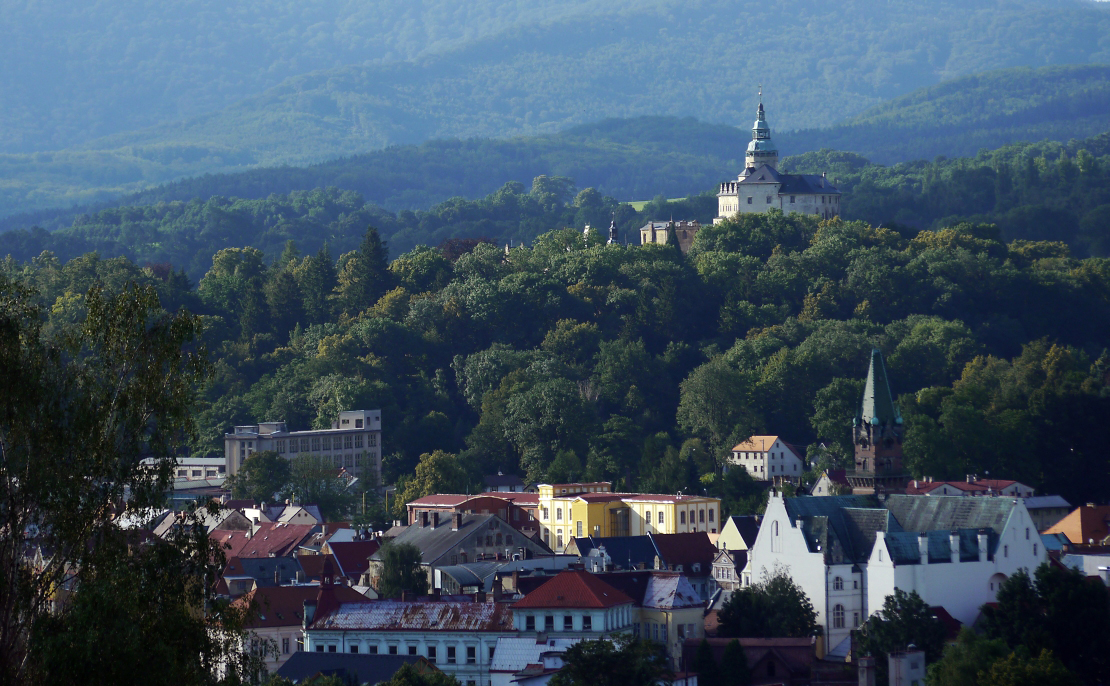 It all began more or less two years ago in Wales when Tomáš Kvasnička, the person behind MTB trail movement in CZ, took a group of mayors from communities around Frýdlant with whom he worked on new trail destination to discover the successful formula of Welsh trail centres. Other having a chance to ride famous MTB trails and test welcoming Welsh weather the mayors had a meeting with Hans met Hans, who was visiting Wales with very similar purpose: interest in trails designed for the enjoyment of mountain bikers. During the course of the meeting the mayors invited Hans to then coming-into-being Singltrek pod Smrkem. It is hard to tell how seriously the MTB globe-trotter from Laguna Beach took the invitation to the East.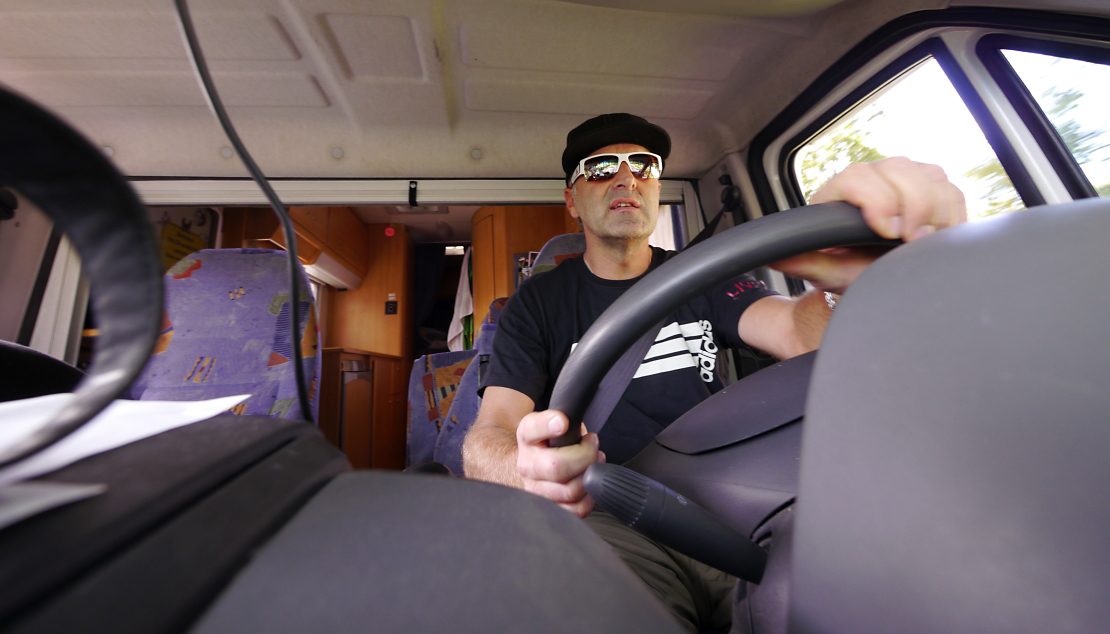 Two years gone and at the Czech-Polish-German border triangle I jump into Hans' camper which he uses to travel around MTB events throughout summer Europe.The GPS navigation displays his destination - Nové Město pod Smrkem. "People around the world talk a lot about Singltrek pod Smrkem recently. Since I was participating in an exhibition DH ride nearby Dresden this weekend, I thought - hey this is a chance for a short visit," explains energetic mountain biking star. "I will spend riding Singltrek next two days and then I am gone for an event in Ötztal, then back to Germany and then finally I am travelling back to California to join with my family" he adds and unwittingly provides an idea how intensive life of the mountain biking celebrity can be.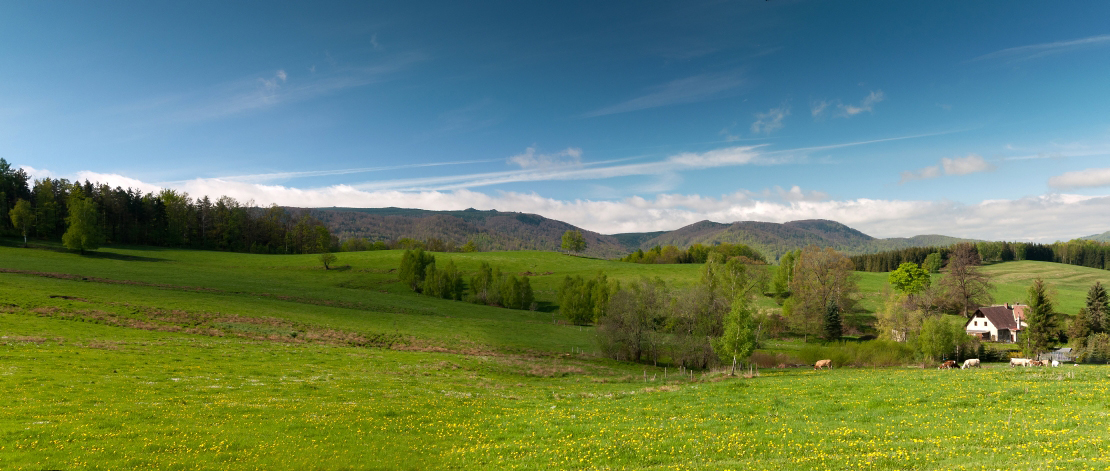 The journey through border region continues well and soon we encounter the first hills of mountains in Czech called Jizerské hory.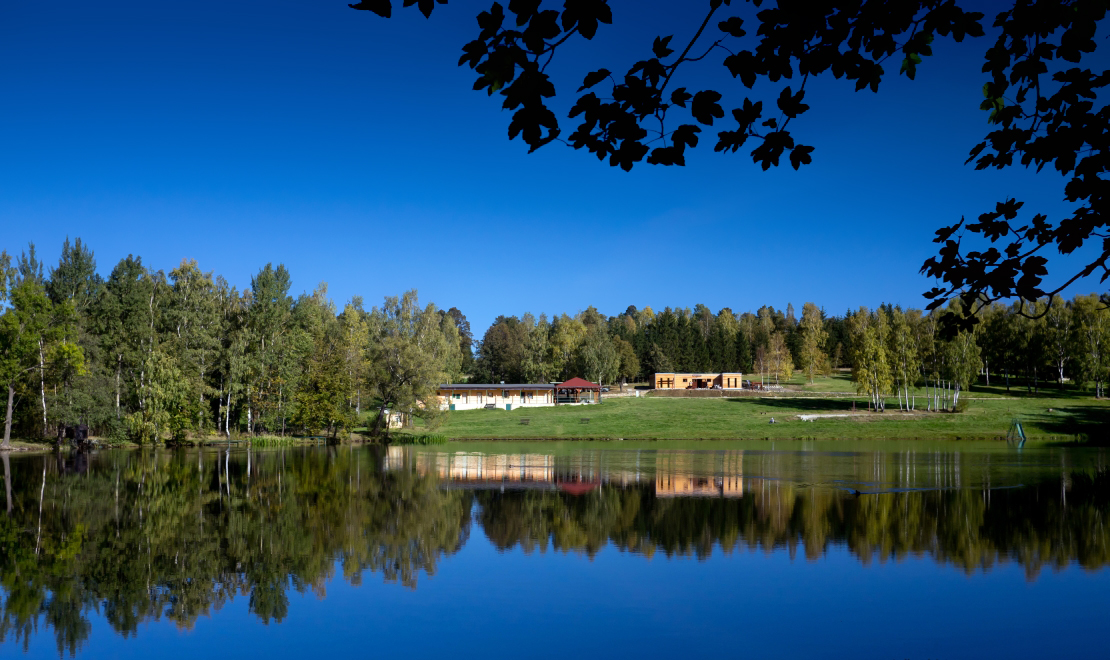 At noon we arrive at a trailhead in Nové Město pod Smrkem placed by a lido - a small beach, blue natural water framed by trees and the facilities ready for mountain bikers - could you ask for more? Hans immediately sorts out his accommodation. His choice is no luxurious hotel nor nice pension, but a night in his camper parked on the beach.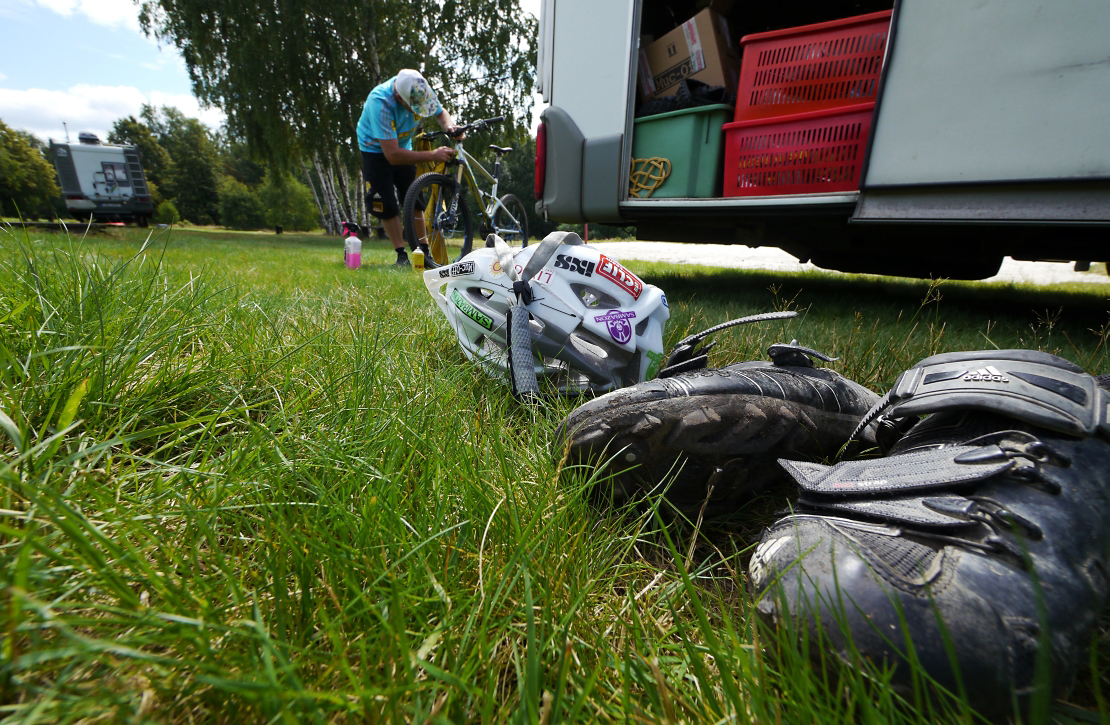 No time to lose. We are getting ready to hit the trails.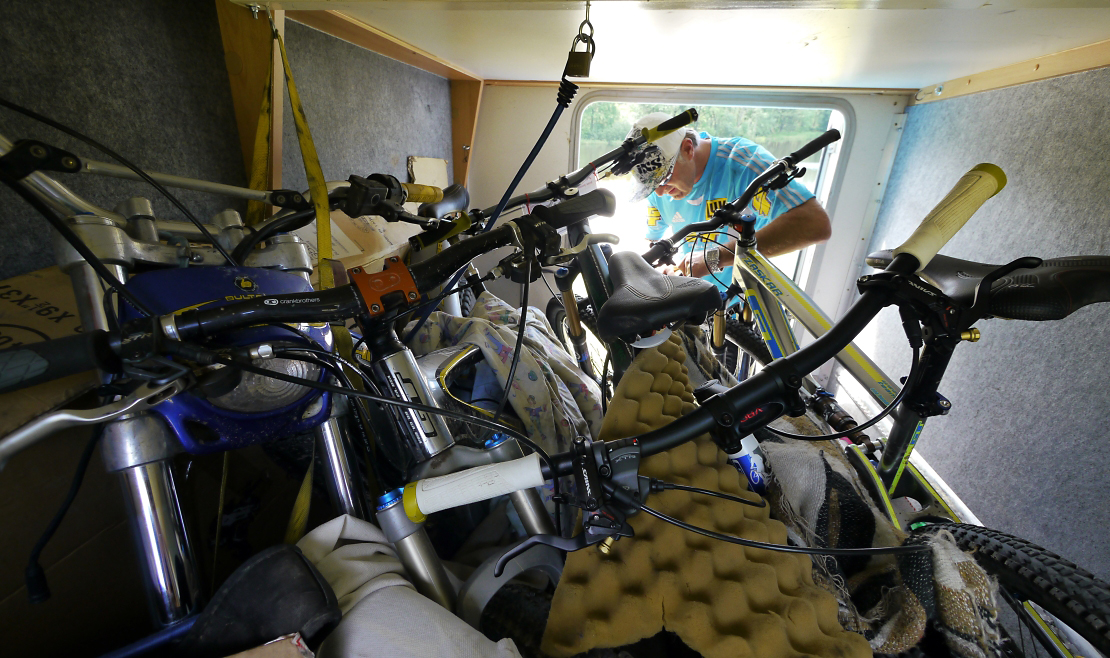 Hans opens his "garage on wheels" - the storage space in the back of his camper - which four bikes and one moto call a home. Todays' choice is a nicely tuned-up Zaskar.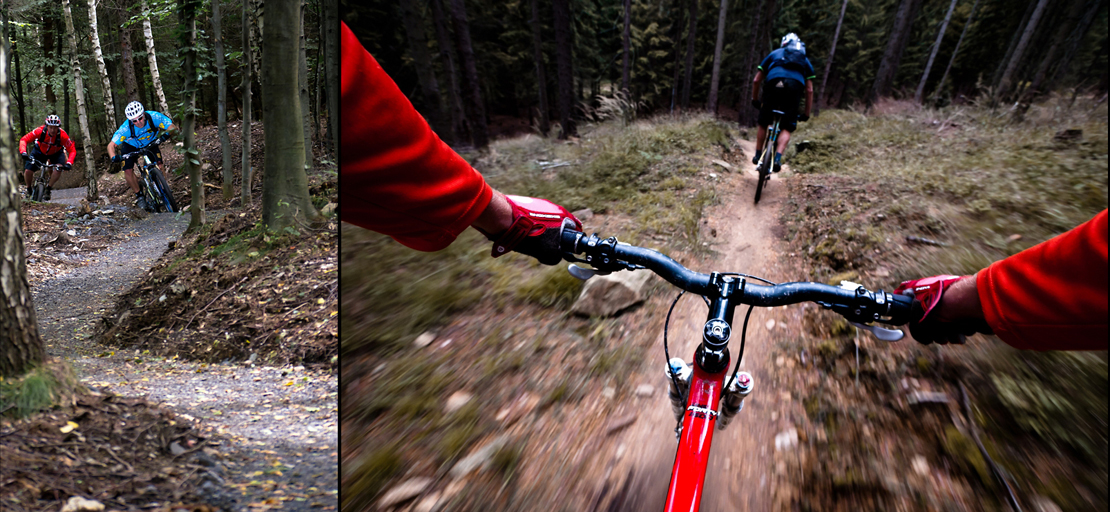 We are off for a short spin on the trails guided by Tomáš Kvasnička, the masterhead behind Singltrek pod Smrkem. Tomáš shows us a couple of new trail sections, few of the many that are now being built in this part of Jizerské hory.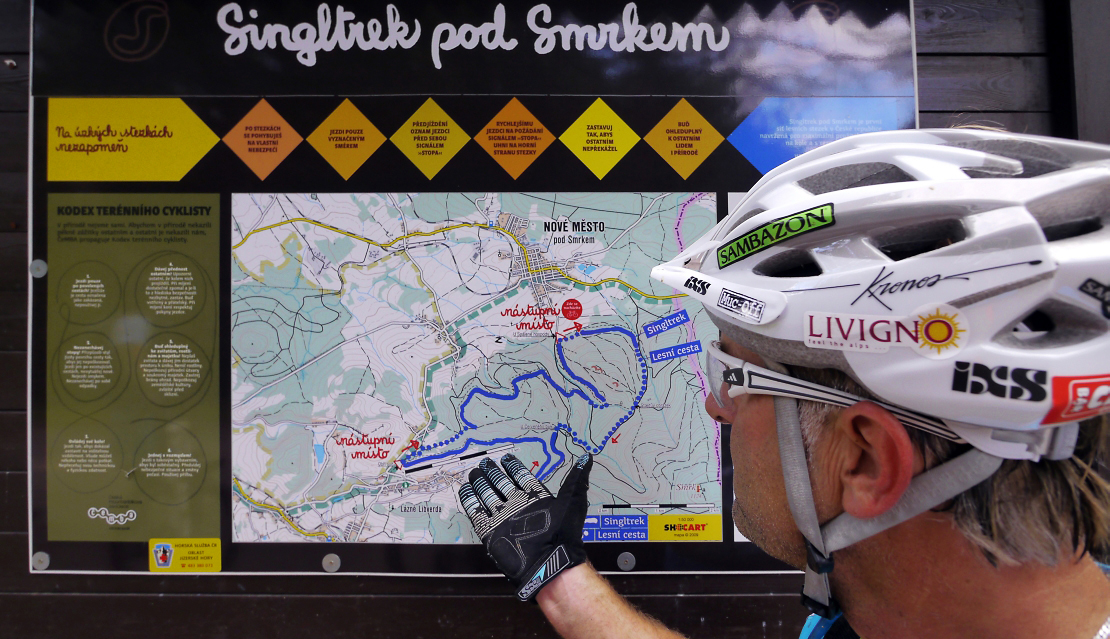 The color-coded difficulties of trails lead us to Poland - we start on wide green trail, follow on an easy blue and then join the flowy red trails. Only the black trails are not yet finished - the recent heavy rains have slowed down the construction.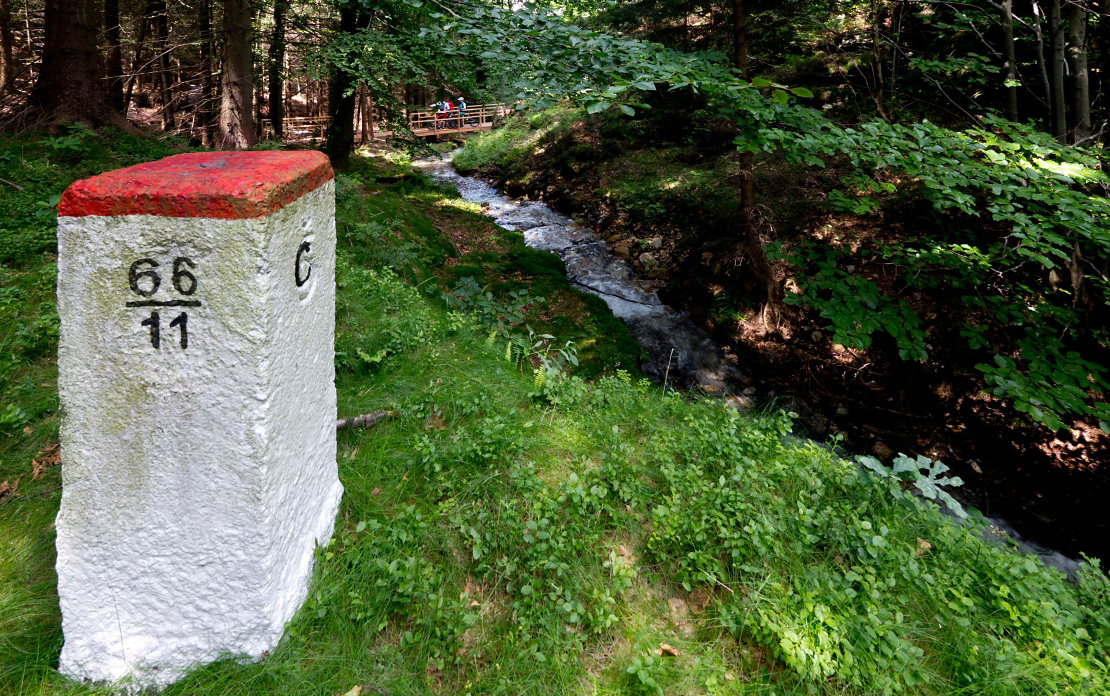 Riding uphill Hans talk with Tomas about Singltrek pod Smrkem and about designing trails in general. Several sentences and you know he has it all sorted and is a strong believer in mountain biking trails.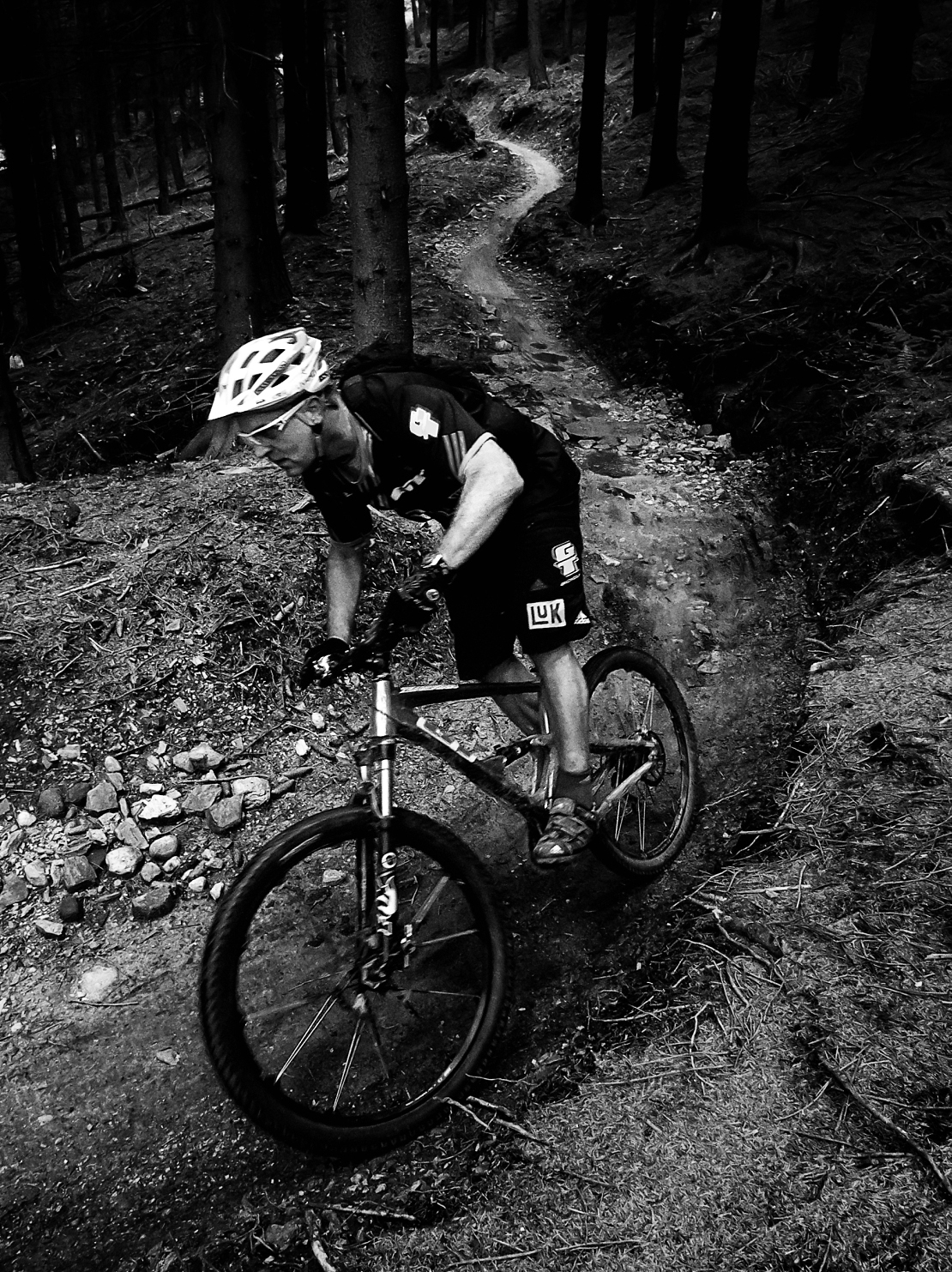 Over the horizon Hans' hunt for flow begins. He eagerly throws himself into the rhytme of the trail, pumps through with his body and smoothly surfers through the turns.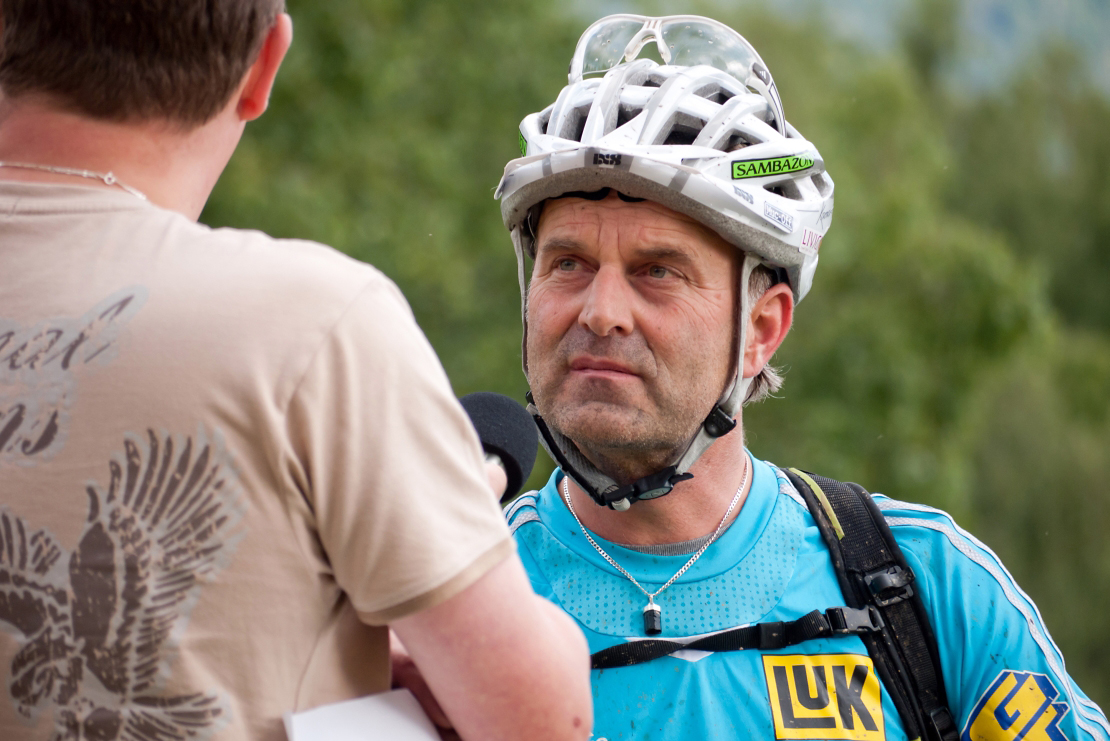 The fun time is over as the coming afternoon belongs to the media wanting to interview a mountain biking legend. We return to the lido where the The Czech Public TV crew already awaits us. First we need to shoot some moving images, so Hans willingly rides one single segment of the trail - over and over again - till the cameraman does not feel he has enough shots. And every time Hans passes with a style full of finesse joined by a happy squeak now and then. We return for the interviews and questions oscilate around Hans' adventures, flow country trails, new plans for charity. Every time the interviewers ask him how he liked the trails at Singltrek pod Smrkem, Hans' answer is clear: "This is the future of mountain biking. Not the only future as the older forms of MTB will stay with us, but purpose built MTB trails similar to ones at Singltrek pod Smrkem will change our sport. They will make mountain biking accessible to normal people which is ultimately important."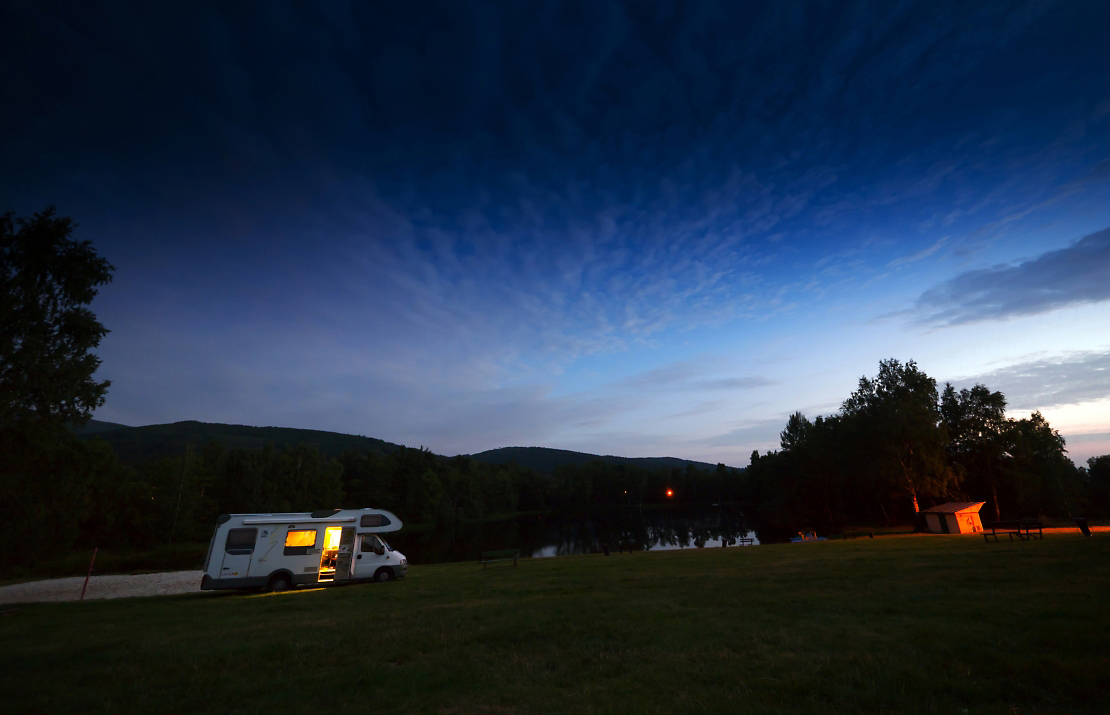 Next comes the ride with mayor of nearby communities and then the official dinner. Hans returns back to his camper long after dark. This was a very long and demanding day, but not for a second would Hans approach anything without a smile and friendliness. If you want to see an MTB pro, here you have one.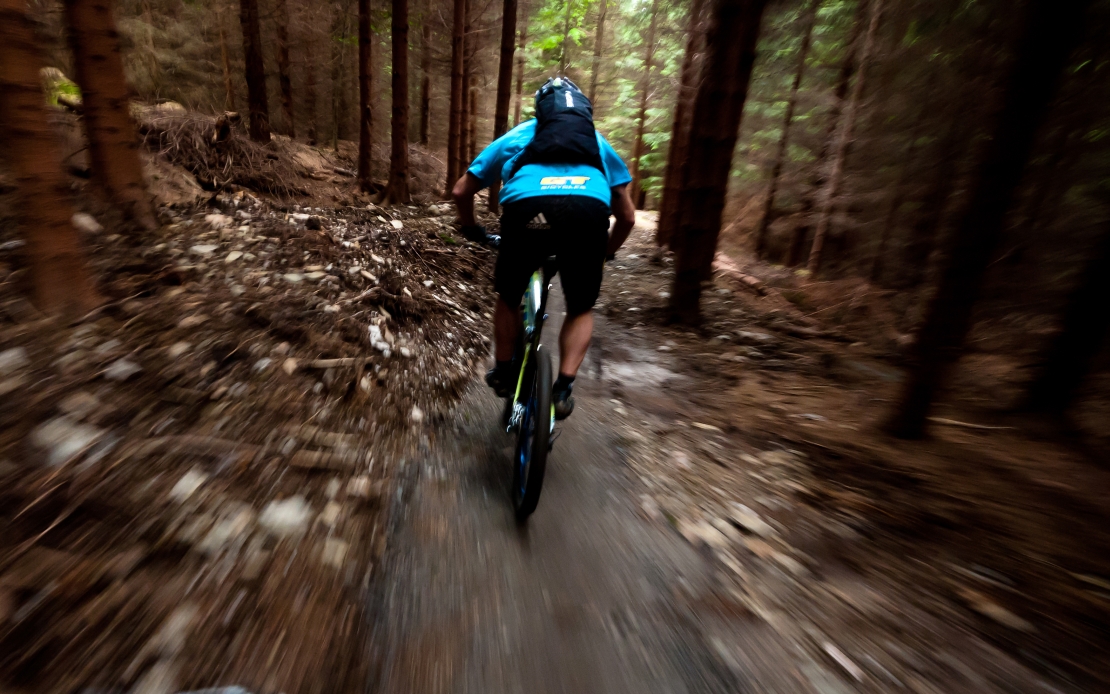 The next day is all about a ride - no interruption with any commitments. We ride the oldest part of the trail system - climbing to Červený Buk, goulash soup at Hubertka, a legendary long flowy descents to Obří sud and the last pumpy section above Kyselka.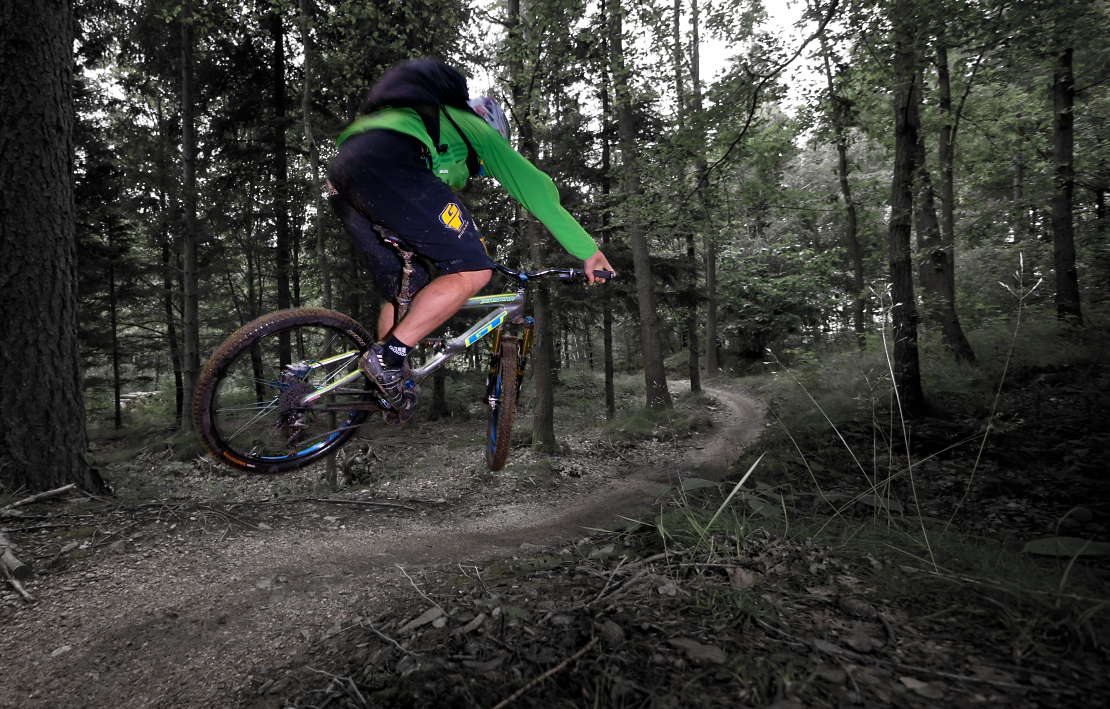 Hans is basically shrieking with joy, looking for tops of the waves to jump from and when in the air he is always there with a tailwhip.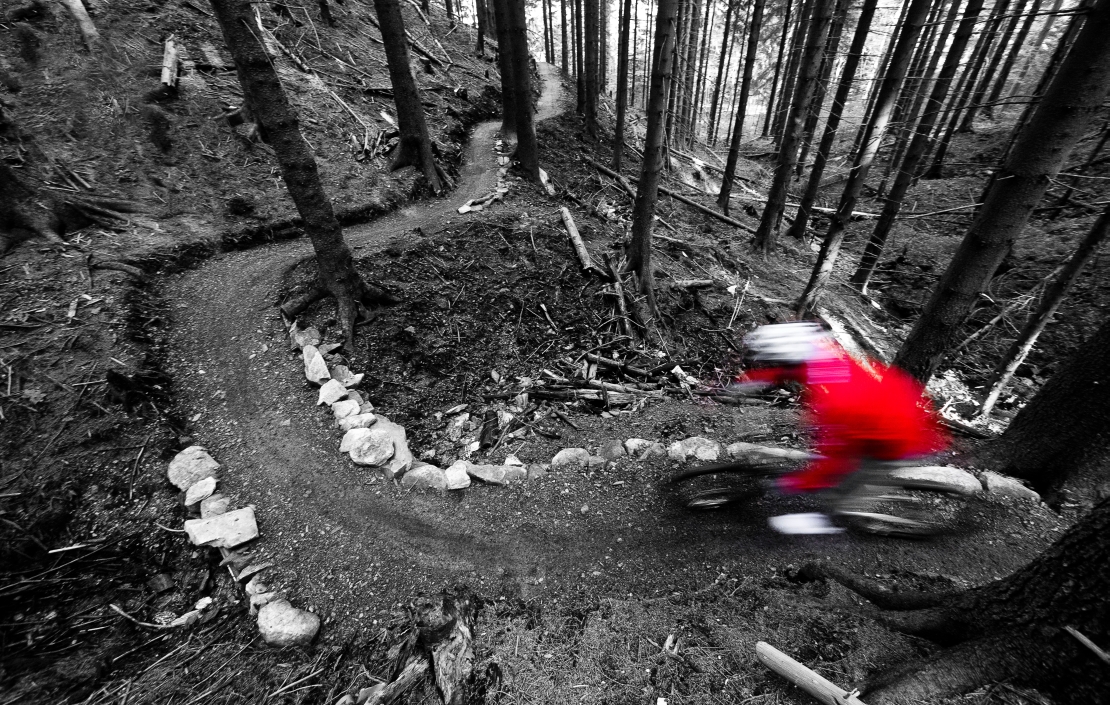 Not in an speedkill tempo, but in a precise rythme tuned for the maximum enjoyment of the trail.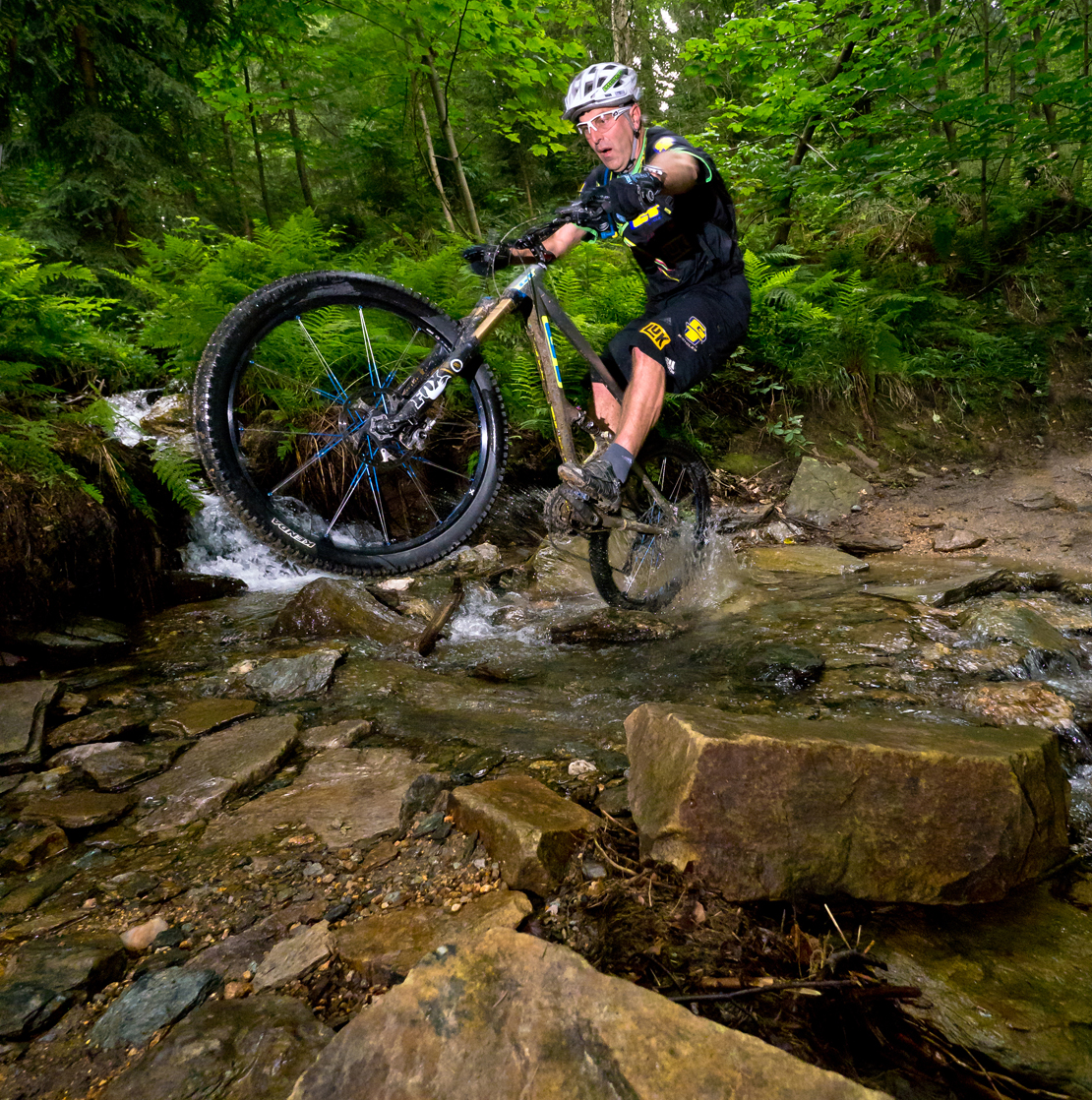 So when the last section finishes down at Spálená hospoda, Hans exclaims: "Man, this is it" and we give each other a proper endorphin infused high five.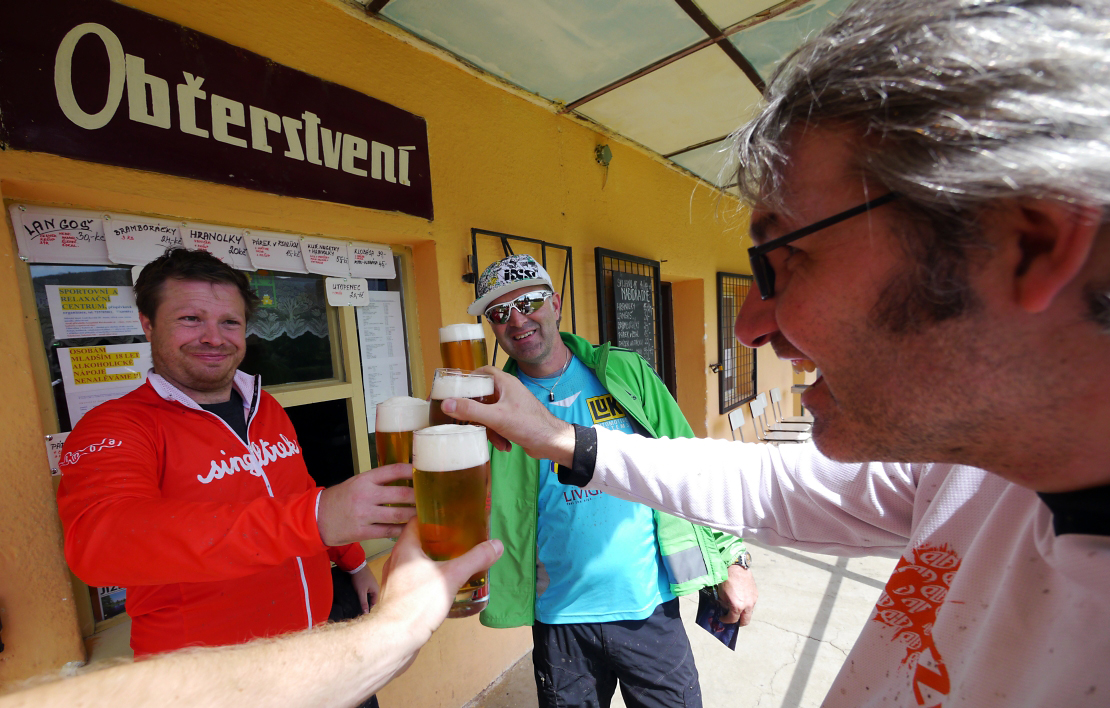 At noon we are back at the Singltrek Centrum trailhead in Nové Město. The Czech visit of Hans "No Way" Rey is ending. And Hans is about to be off to a next MTB event. The bikes go into the camper's storage place, nice pumpkin pie and coffee into his stomach and Hans is on the road againg. His twitter feed shows: "Rode some more really fun XC trails in Pod Smrkem (CZ), on da road again."